[ad_1]

It was an exciting evening at Taj Palace, New Delhi this Sunday as the audience witnessed a heart-warming celebration of Indian women writers on the occasion of AutHer Awards 2023 winner announcements. The AutHer Awards, a joint venture between The Times of India and JK Paper, celebrates women authors who have added value and creativity to the literary space. From authors, publishers, academicians, and book lovers to bureaucrats, politicians, and artistes– the fourth edition of AutHer Awards was attended by some of the biggest names in the literary space.
Veteran actress Shabana Azmi was the Chief Guest for AutHer Awards 2023.
The winners are…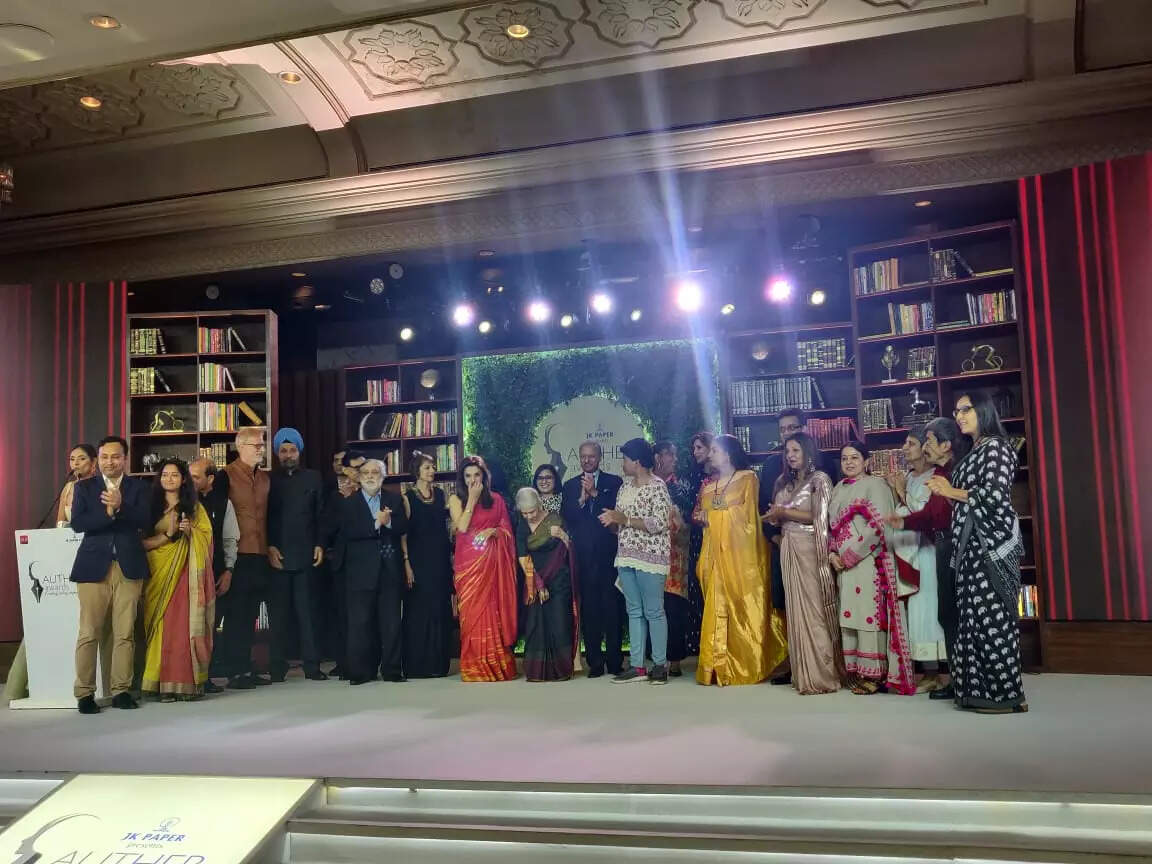 The AutHer Awards 2023 winners were announced for four major categories – Fiction, Non-Fiction, Children's Literature, and Debut. A Lifetime Achievement award and a Prize in the Popular Choice category were also given. A new award category was also introduced this year for Best Manuscript.
The AutHer Awards 2023- Best Author Fiction was given to Janice Pariat for her novel 'Everything the Light Touches', published by HarperCollins.
The AutHer Awards 2023- Best Author Non-Fiction went to Barkha Dutt for her book 'To Hell and Back: Humans of COVID', published by Juggernaut Books.
The AutHer Awards 2023- Best Author Debut Award was won by Vauhini Vara for her novel 'The Immortal King Rao', published by HarperCollins.
The AutHer Awards 2023 for Best Children's Author was given to two women writers this year! While Bijal Vachharajani won the award for 'Savi and the Memory Keeper' (published by Hachette India), author Vaishali Shroff also won the award for her children's book 'Batata, Pao and All Things Portuguese' (published by The People Place Project). It is noted that Bijal Vachharajani had also won AutHer Awards in 2019 for her book 'A Cloud Called Bhura'.
The Popular Choice Award was won by Vaishnavi Roy for her book 'Unwind', published by The Write Order, for garnering the maximum number of votes online.
Veteran Indian novelist and feminist author, Shashi Deshpande was awarded the Lifetime Achievement Award this year for her timeless contribution to Indian writing in English.
The AutHer Awards 2023 for Best Manuscript was given to Aditi Sowmyanarayan from Bangalore. The 17-year-old writer, who is non-verbal and on the autism spectrum, stood out with her exceptional writing talent for the jury. Aditi's award was received by her father Srinivasan Sowmyanarayan on her behalf. Expressing her gratitude on winning the award, Aditi said in a recorded message, "To say that I am exulted at this moment would be an understatement! Thank you JK Paper and The Times of India for conferring the Best Manuscript award to my labour of love, 'With You, Right Through'. It is a huge shot in the arm for me to write more, write better and bring to the fore the thinking mind behind the facade of non-speaking autism. Last, but not the least, I dedicate the award to my mother. Amma- you are, therefore I am. Thank you."
Ankita Pal, 16, stood a close second in the Best Manuscript category. She too won an AutHer Award in this category for her manuscript 'Throne of Dragonix'.
The selection process
The Longlist, Shortlist, and Winners for AutHer Awards 2023 were chosen after multiple layers of screening, followed by detailed discussions among a panel of eminent jury. This year The Times of India received over 2000 entries, submitted by both publishers and authors, for the coveted women writers awards which is the first of its kind in India. The jury considered books by women published in India between December 2021 and November 2022.
Check the complete Longlist for AutHer Awards 2023 HERE
Check the complete Shortist for AutHer Awards 2023 HERE
The Jury
The Chairs for the AutHer Awards 2023 jury were: actress-author Sonali Bendre (Fiction), author-historian Dr Vikram Sampath (Non-fiction), one of the leading members of the Apeejay Surrendra Group– Priti Paul (Debut), and award-winning children's author Ranjit Lal (Children's books).
Commenting on Auther Awards 2023, Sonali Bendre- Chair for Fiction category said, "The Auther Awards is a wonderful initiative to recognize and encourage women authors. It's an honour to be Jury Chair for the fiction books – it's my favourite genre and it was an absolute pleasure to read the selection this year. There were so many new voices, new styles of writing, and each had its own distinct flavour. Some of them really resonated strongly with me, with beautifully written prose, and I wish all the authors all the very best."
While, Chair for Non-fiction– Dr Vikram Sampath said, "It was truly an honour to head the Non-fiction jury of the unique and one of its kind AutHer Awards that celebrates the best of women writers in contemporary India. Jury members Ramesh Sharma, Prabha Chandran, and I loved reading the wide and eclectic range of books in this category that ranged from biographies, history, memoirs to contemporary societal issues and politics. It was a tough task for us to zero in on the longlist and subsequent filters down to the final winner."
Talking about the varied variety of children's books the jury read this year, Ranjit Lal– Chair for Children's category, said, "An eclectic collection of stories that should encourage children to bury their noses in the books! Mythology seems to be a favourite subject with children's authors these days. The three top rankers ran a very close race indeed!"
Priti Paul, Chair- Debut category, said, "I am deeply honoured to chair the Jury for the Debut category in Season 4 of the AutHer Awards. As a book retailer, I strongly believe that the celebration of the work of women writers is long overdue. I congratulate the AutHer awards on their path breaking initiative in recognising the potential and power of writings that women authors bring to the table. The nominated authors achieved remarkable standards of creativity in their writing. On behalf of the heritage Oxford Bookstore, I wish them all the very best in their future literary endeavours. More power to Her Pen!"
The other jury members included: former diplomat-author Navtej Sarna and professor-author Jonathan Gil Harris for Fiction; award-winning filmmaker Ramesh Sharma and former Editor and communications specialist Prabha Chandran for Non-fiction; actress Lillete Dubey and Sunit Tandon- Director of the India Habitat Centre and President of the Delhi Music Society- for Debut; Swati Roy- owner of Eureka and Founder-Director of Bookaroo, and Dalbir K Madan- literacy & library consultant, and an educational entrepreneur.

The AutHer Awards 2023– Best Manuscript was judged by Hemali Sodhi, Founder of A Suitable Agency.

Vinita Dawra Nangia, Literary Director, AutHer Awards in her inaugural speech said, "This is no matter of chance, but a matter of a systematic bias that permeates the literary world. We need to create more opportunities for women authors to showcase their work and receive recognition. We need to challenge the stereotypes and and biases that limit women's access to the literary world. The question never was, nor is whether men are better writers than women or vice versa. The point is that women must be read as writers, not women writers and their writing be appreciated without being presumed to be inferior or marginal only because of their gender!"
[ad_2]

Source link
AutHer Awards 2023 winners announced at a gala event in New Delhi